Taurine is a naturally occurring amino acid and is found in high concentrations in the white blood cells, skeletal muscles, central nervous system as well as the heart muscles.
Taurine is a soluble powder and can be easily mixed with your supplements or mixed with just water.
Taurine is ideal for anyone looking to increase their dietary intake of Taurine. For best results consume 1 (1-3g) serving of Taurine 30 minutes before your workout or prior to bed.
Please note that the labelling on this product is provided in English as a minimum. French, Italian, German, Spanish, Danish, Swedish and Finnish may also be present on a product by product basis.
Add your preferred amount of water or fruit juice into our shaker. Then add 1g, shake and consume. Use twice daily. For best results use 30 minutes prior to exercise and before bed.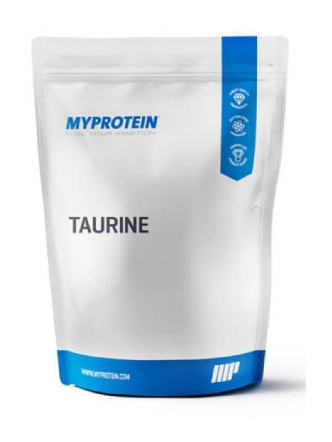 Note: We advise that all servings are measured using an accurate set of scales. While we make every attempt to provide an accurate equivalent measure using our Myprotein scoops, these are only approximate and are not a substitute for using a standardised measuring device.
Do not exceed the stated recommended daily dose. This product is a food supplement and therefore should not be used as a substitute for a varied diet and a healthy lifestyle. Store in a cool dry place, out of the reach of young children.
Made in a facility that also handles Milk, Soy, Egg, Gluten and products thereof.
Unflavoured: Taurine (100%)
Serving Size - 1/6 tsp (1g)
Servings Per Container - 250 (250g), 500 (500g), 1000 (1kg)
Nutritional Information Per Serving
Taurine 1 g
The nutritional information is based on the Unflavoured version, when choosing an alternative flavour the nutritional values may vary.